This Baltimore Homeowner's Shower Went from Scum-filled Mess to a Beautiful Work of Art with a Stone Sealing
September 29, 2015
Showers, especially those with natural stone tiles, are usually one of the most challenging surfaces in your home to clean and maintain. The area can become susceptible to stains, soap scum buildup, mineral or calcium deposits, and hard water spots. Walls will also expand and contract naturally over time, so performing routine maintenance by applying caulk along the shower flooring and walls may be required. If certain bonding agents such as the silicon, grout or caulking around your shower flooring and walls begin to peel or crack, then water can get behind the stone tiles causing the potential growth of mildew and mold.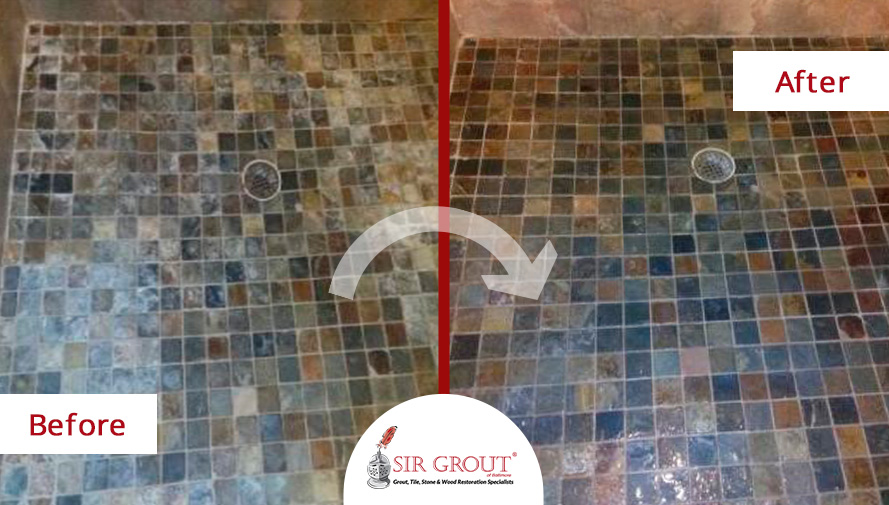 Liza Peretti tried everything to clean the heavy buildup of calcium and soap scum in her slate shower pan, but nothing seemed to work for her. When Liza searched for a
Baltimore stone sealing
company, she found Sir Grout of Baltimore. She was expecting to hear that nothing could be done for her shower. However, we made it our goal to make this Baltimore homeowner happy by thoroughly discussing our process with her and setting an expectation of the results we wanted to achieve.
Sir Grout uses a pH-neutral cleaner to pre-treat your stone rather than using harsh soaps or traditional cleaners that can etch or damage your stone surfaces. Depending on the type of stone you have, we would deep clean even your most delicate stone with our state-of-the-art soft brush vertical scrubbing system. Slate, which is a natural and porous stone commonly used in home floors and counter tops, can accumulate grime and dirt over time, causing it to become scratched or etched. The experts at Sir Grout use different techniques to finish your slate surfaces, such as topical coatings or wax penetrating sealers and color enhancers. Whether you want to see a matte, gloss, or a low luster finish on your slate, the type of sealer used will determine the finished look. We offer our customers the ability to customize the finish on their slate surfaces, giving it exactly the look they desire.
We knew that the slate cleaning and sealing job on the shower pan in the Baltimore home would be a challenge. As shown in the before and after pictures of the slate shower pan above, the experts not only impressed themselves, but also made another customer happy by demonstrating their professional knowledge in stone cleaning. They removed the heavy soap scum and calcium buildup, and resealed the shower pan. Liza Peretti was extremely pleased with the work performed by Sir Grout. She told us that she wants to tell her friends about Sir Grout and wants to call us in the near future for additional work. We were pleased to create another happy Sir Grout customer.
When performing routine cleaning of your slate or other stone surfaces, Sir Grout recommends only using quality, stone-safe, and neutral cleaners. Avoid using harsh cleaners that contain ammonia or acid because they can dull, damage, and discolor your beautiful natural stone surfaces. To prevent stains, mold, mildew, soap scum buildup, mineral deposits, and hard water spots, be sure to dry the walls of the slate or other natural stone used in your shower with a squeegee or dry towel between uses.
If your slate or natural stone surfaces become damaged, dull, or discolored, the experts at Sir Grout are highly qualified and trained to provide stone cleaning and sealing services. We also recommend the most appropriate cleaning products and we educate our customers on the best ways to properly care for their natural stone surfaces. Fill out the form below to contact Sir Grout of Baltimore for a free evaluation today!