This Baltimore Stone Cleaning Brought a 50 Year-Old Floor Back To Life
August 27, 2015
Every once in a while our
Baltimore stone cleaning
experts face the challenge of restoring beautiful floors that have been damaged over the course of time. Floors are usually the most neglected part of the house because everyone walks over them, yet no one stops to look at them until it is too late. Mrs. Ellen Wilfred's case was one of these difficult yet rewarding cases. Her slate floor had been installed over fifty years ago, when the TV show "I Love Lucy" was still on the air, and Technicolor was brand new. Even if Ellen cleaned and polished her floor religiously, over 50 years of grime, dirt and polish take their toll. Discover what happened on this Baltimore stone cleaning job, and catch a few tips on how you should (and should not) clean your slate.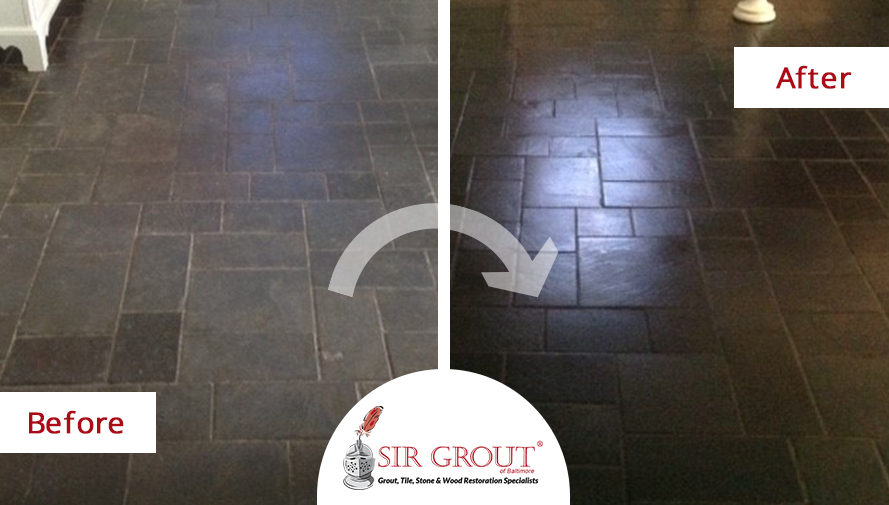 For obvious reasons, Ellen felt unhappy with the state of her floors. They looked dull, ugly, and hadn't been properly cleaned since they were first installed. Imagine having your walls not painted, or your bathrooms being the same way they were since before the Moon landing! Like we said before, people tend to forget how important it is to keep floors clean, and that goes beyond sweeping and polishing once a month. Our experts went to check the property to see what the source of the problem was; they found out there were at least two layers of clear coat and an extra layer of wax, creating the opposite of the intended effect. Instead of making floors shiny, this excess made them dull and opaque. Not even the best household cleaner, elbow grease, or applying hardcore chemicals could make this floor come to life once again. This was a job for the best Baltimore stone cleaning team: Sir Grout Baltimore. Our goal: Restore these once shiny floors, and make them suitable for the 21st century.
We brought our weapons, which are the highest-rated cleaners on the market, and our manpower, willing to push their effort to the next level with the aim of getting Ellen's floors beautiful and glossy again. First, we took a pH neutral cleaner and spread it all over the stone surface so that layers of dirt and wax would disappear. Still, that wasn't enough. In order to remove all the remains of grime, our team had to hand-scrape the edges, a meticulous task not made for the faint-hearted. Finally, the dirt vanished almost completely. The finishing touch was not one, but two coats of Sir Grout's own mirror seal, which will help the floor remain clean for a long time without using low-tier products or waxes.
Ellen Wilfred was ecstatic with the results. She said this would be the first time she could see her own reflection on the floor, an impossible task before Sir Grout Baltimore came to the rescue. "All my life, I thought the floors were damaged and it was time to change the entire stone work that has been in my house for over fifty years. I can't believe how much money I saved using Sir Grout's services, now my floor is going to last another fifty years looking amazing!"
When you have a stone floor like Mrs. Wilfred's, make sure if you are not applying products that aren't meant for the type of stone you have. The greatest approach to clean natural stone, be it granite, marble, sandstone, or slate, is water with a PH neutral soap, like the soap used in your dishwasher. A sponge should be used while cleaning, along with a soft cloth or a very soft brush to avoid scratching the surface. Use a circular motion. Afterwards, you must clean the surface very well and dry it quickly with a towel. If you let it dry by itself, it will not be as shiny, and will leave behind whitish spots.
When you clean your stone floor, does it still look dirty afterwards? It could be a result of poor finish on your stone. Fill out the form below to contact Sir Grout of Baltimore for a free evaluation today!